This is us on a picture: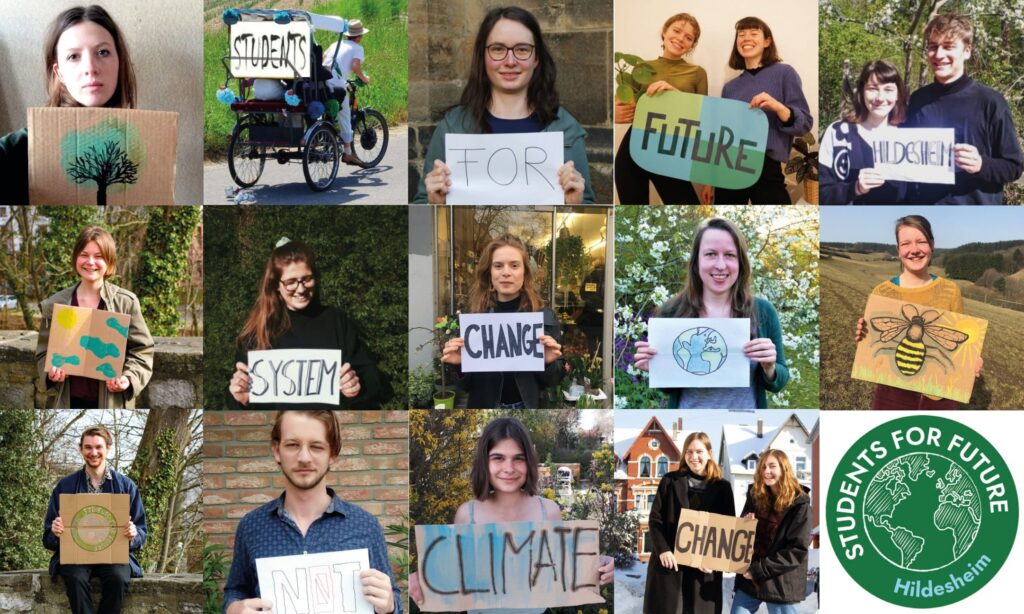 We are Students for Future Hildesheim. Students for Future (SfF) is affiliated to Fridays for Future as a working group of university students. We are part of this working group – in form of a local chapter for Hildesheim, consisting of about 20 students from the university and the technical college. We were founded in November 2019 out of the first Public Climate School at German universities which had been organized by other SfF chapters.
We are part of the Hildesheim anti-fascist network and stand for an intersectional anti-capitalist, anti-fascist, anti-racist, feminist and anti-classist fight for global climate justice.
More detailed information about that can be found in our self-concept:
Our self-concept
"The Hildesheim chapter of Students for Future is a coalition of students from all universities in Hildesheim. We are a decentralized and grass-roots democratic movement open to anyone which understands itself as part of the global climate justive movement. We are dedicated to the goal of a cultural and social-ecological change as propagated by the Fridays and other for Future movements. We stand up to secure the livelihood of all people within the planetary boundaries of the earth. In order to reach this goal, we think it is crucial to overcome the current destructive ways of living and economizing within our present-day society.
We as Students for Future see ourselves as a link between the Fridays for Future movement including their valid claims and the science which is working on possible solutions. Our central concern is to prepare scientific insights, solutions and possible actions in a way that is understandable to everyone, and to then bring these results into the society which we are part of as well. As university students, we don't only think about ourselves as mere knowledge consumers, but also as co-designers of research and teaching.
Everyone is welcome here. Any kind of discrimination or exclusion is not welcome at all. We declare our solidarity with all marginalized and oppressed humans as well as other living beings on this planet. Within our work, there is no space for violence of any kind against humans or animals.
Join us and let's fight together for more visionary politics making brave and bold decisions!"